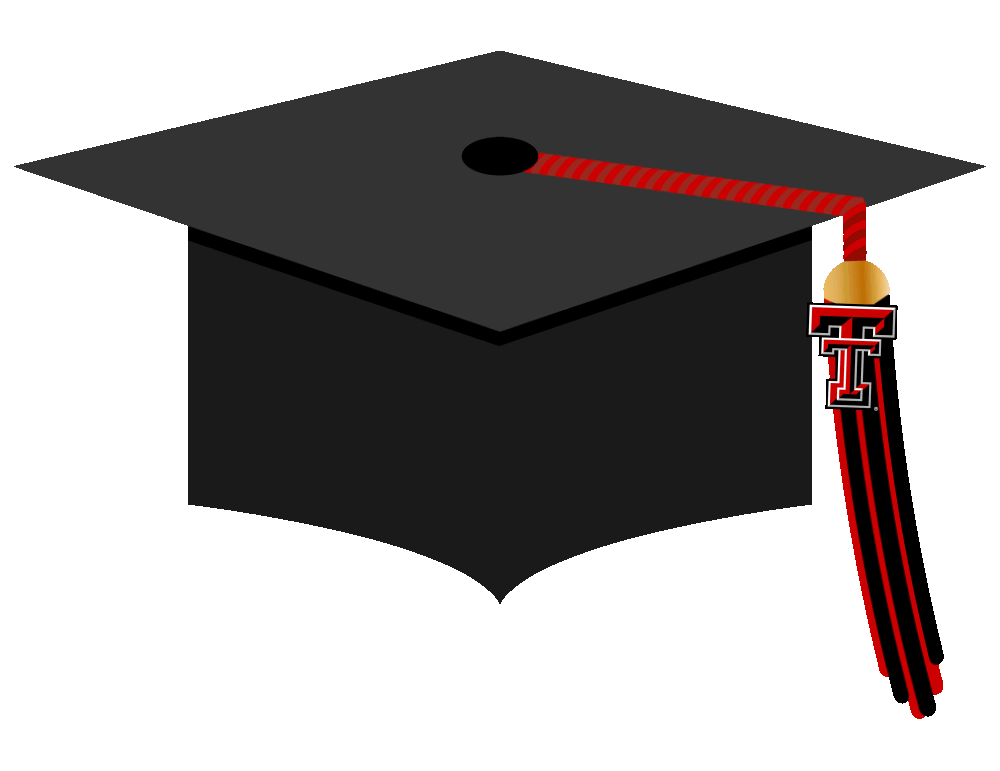 You're Red Raiders for life now, no take backs.
Welcome back to the Mailbag.
We have reached that time of year again, the one where a whole group of students become Texas Tech University alumni.
You're a Red Raider for life now. It's on the resume. Nothing you can do about it.
As always, we did our best to highlight a wide range of graduating students ahead of commencement and, if I do say so myself, we found some really cool stories to tell you guys. You can find all of those on the lovely site Centennial Commencement site and across social media.
Now, with only a few writers and even fewer photographers and videographers, we know we can't tell every story. There's a whole heap of graduates walking this weekend and we barely scratched the surface.
We had plenty of feedback on the stories, but one comment did stand out on social media.
It reads "What's with all these amazing Tech grads y'all are posting? What about us mediocre ones that just became a normal working man" and has a little teardrop emoji at the end.
Well friend, you are right!
We go out in search of excellence and, if I'm being completely honest, and considering the amount of successful students we churn out of this place, exceptional isn't all that hard to find.
But exceptional wouldn't be exceptional if it was the average. No sir, that's not how math works. And the average student here is probably just happy to have a degree and excited to be moving on to the rest of their lives armed with a piece of paper that says they did a thing.
So, I figured we'd take a few minutes to celebrate the rest of you and to give you a few words of encouragement.
If you're one of graduates this week, congrats, it looks like you made it.
Was it always easy? Probably not. But those Bs and Cs counted and here you are, about to go do something else.
What are you going to do now? We have no way of knowing for all of you, and we're pretty sure some of you don't know either. What we do know is you managed to make it through college, and for that you should be commended.
So, here's to the students that made it through with honors, those that made it through by the skin of their teeth and everybody in between.
Go forth and bear our banners far and wide.
And stay in touch, because we're proud of all of you, and you're all Red Raiders forever.
More Mailbag
Mailbag: Getting the Boot
How many citations until you get a boot on your vehicle? Is there a campus nurse?
Mailbag: Print the Legend
Is Texas Tech the second-largest contiguous college campus in the country?

Mailbag: Playing Chicken
Exploring the world of campus crosswalks.
Mailbag: Halloween Happenings
How best to celebrate All Hallows Eve.

Mailbag: Beyond Okay
Mental health, and what Texas Tech is doing to help.
Mailbag: Home for the Holidays
Planning your holiday travels? We've got you covered.
Mailbag: Thanksgiving Extravaganza!


In which we answer two reader questions about Turkey Day.

Mailbag: Giving Thanks
The Mailbag stays in-house this week as we give thanks for the many blessings in our lives.
Mailbag: Highly Recommended
What to do when you need a letter of recommendation.
Mailbag: Let the Commencements Commence
Everything from parking at the ceremony to ideas about what to do afterward!
Mailbag: A Horse's A**
At issue is a certain horse's hindquarters, a college down south and if the two actually intersect.
Mailbag: Checking In
Parents with questions: where to see their student's grades and how to see TechAlerts.
Mailbag: Celebrating Dr. King
MLK Day offers much more than a reprieve from classes and work.
Mailbag: Let's Get Judgy
What are Texas Tech's world-class judging teams actually judging and how do they get judged themselves? We're here to find out.
Mailbag: Happy Snow Day
What a snow day looks like at Texas Tech.
Mailbag: Evermore
We look at Texas Tech's award-winning magazine.
Mailbag: All About Love
Valentine's Day is right around the corner, so we're sharing some Texas Tech love stories.

Mailbag: The Hub for Success


The Raider Success Hub is a new tool designed to help students succeed.

Mailbag: The Hub for Success


The Raider Success Hub is a new tool designed to help students succeed.

Mailbag: All About Love Part II
Two weeks back, we shared a couple of stories of Red Raiders in love. We liked it so much we're doing it again.
Mailbag: Here with the Wind


A little bit (maybe a whole lot) of West Texas coming at y'all.

Mailbag: Spring Break Safety
Make good choices.
Mailbag: Service It Up
Take on the challenge and get those service hours counted.
Mailbag: More to Come
We hope you enjoyed our latest series, but we're just getting started.
Mailbag: Was That Sky Water?
Talking about a rainy day.
Mailbag: Finish Strong
We're looking at a fine way to close out your first year on campus.
Mailbag: How and Why We Ranch Horse


In case you were curious, we build champions around here.

Mailbag: What's Not To Love?
A column in which we discuss a call with a friend.
Mailbag: Looks Like You Made It
You're Red Raiders for life now, no take backs.

Mailbag: Building Up
Texas Tech hosted its first topping out ceremony of its second century, but it won't be the last.

Mailbag: Taking Over
What does it take to turn Dallas red?

Mailbag: Off to the Races
Texas Tech and LISD partnered on a STEM project involving races and student-built vehicles.

Mailbag: Everything Evermore All At Once
What does it take to become the best of the best?

Mailbag: Red Raider Community
In which we talk about what the Red Raider community is.

Mailbag: Happy Independence Day


Where we talk about summer, safety and making good decisions.

Mailbag: Two Mondays
A weird week of work and a couple other things you should know.

Mailbag: Why Semiconductors Matter
You may be surprised to learn how much is happening at Texas Tech.

Mailbag: Let's Go Dining
We're talking about food, so please enjoy.

Mailbag: Clarion Awards


Another round of awards and a night to remember.

Mailbag: Leading from Lubbock


After a whirlwind week in the Big 12, it is worth noting the huge role President Lawrence Schovanec played in the latest round of realignment.

Mailbag: Let's Talk About the Weather


Fake fall came and went, but we learned some things.

Mailbag: Day of Giving


Texas Tech's second Day of Giving was a massive success, thanks to all of you, but how does the whole thing come together?

Mailbag: What's Up With Hurricane Season?


Hurricane season is clearly here, so we asked why they're hitting left, right and center.
---